LabVIEW Real-Time Programmers
Over 1,000 LabVIEW RT based solutions delivered
Platinum-level National Instruments Alliance Partner, putting us in the top 2% worldwide
With over 1,000 LabVIEW Real-Time based solutions under our belt, we've utilized RT for a number of test and industrial embedded applications.  It's great for applications requiring deterministic timing.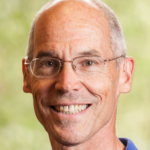 Dr. James Campbell
President
The combination of LabVIEW RT and the RTOS on which it runs allows for the creation of applications with bounded jitter and latency.
Viewpoint uses LabVIEW RT (and LabVIEW FPGA) for applications that require reliable and timely code execution.  These applications generally have particular characteristic needs:
Operator safety from fault conditions
Equipment protection from fault conditions
Reliable control algorithms
Fair to good synchronization of signal I/O without HW clocking
We've used LabVIEW RT to develop many real-time solutions, falling into these application areas:
Product validation
Endurance testing
Machine monitoring
Production/manufacturing testing.
Want us to develop a LabVIEW RT solution for you?
Want more proof points?  Check out these Real-Time case studies: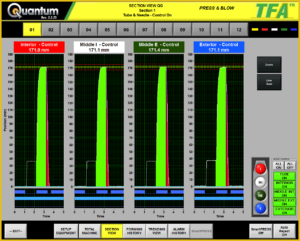 Industrial Embedded Monitoring & Control of Manufacturing Equipment
Adding Closed-loop Precision Control to Manufacturing Process with multiple international plant deployments

Challenge
Quantum produces manufacturing machine components that are used in the glass bottle forming process.  Specifically, they supply plunger mechanisms that are used in the initial blank side formation of the glass bottle.
The engineers at Quantum recognized that they had an opportunity to improve the bottle formation process by adding position sensing to their plunger mechanisms. The ability to sense and record plunger positions would enable machine operators to monitor the travel of the Quantum plunger into the molten glass gob within the blank side mold, identify and diagnose potential hardware problems, and provide real-time feedback that could be used to better control the process.
Quantum needed a partner to implement real-time control and monitoring of the bottle forming process and selected Viewpoint for the task.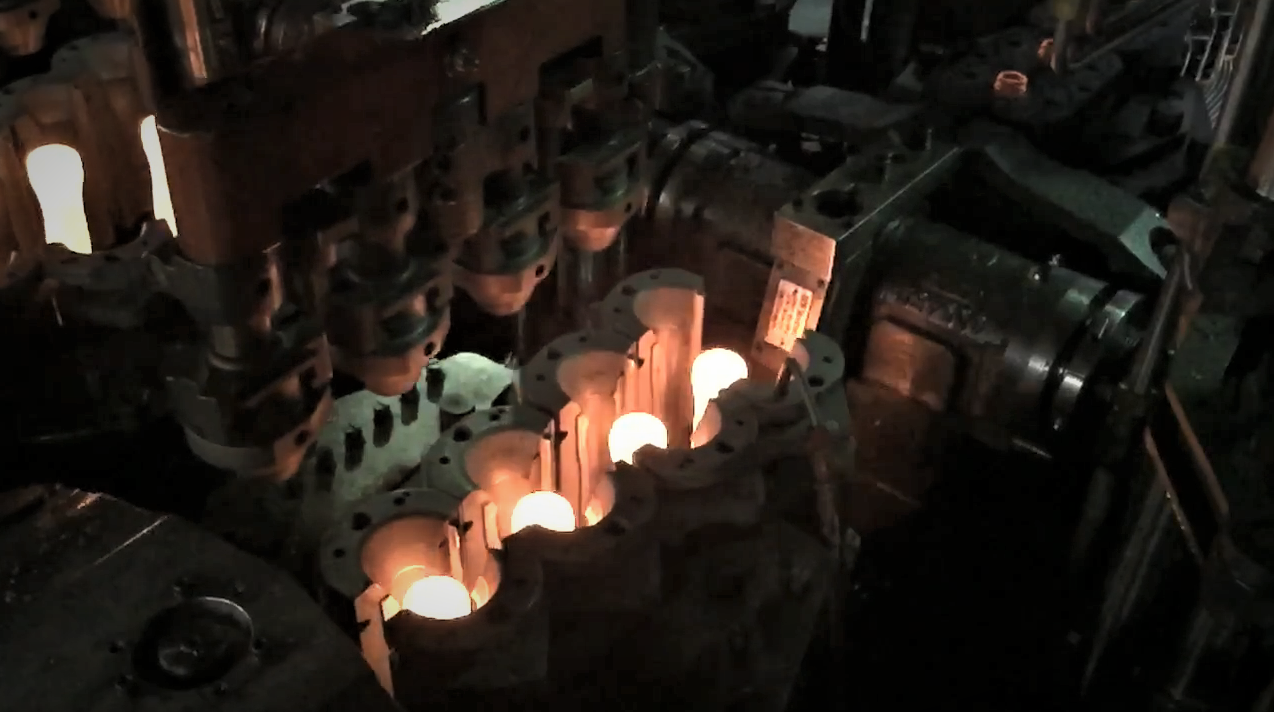 Solution
Viewpoint developed custom monitoring and control software that runs on off-the-shelf hardware.  The software developed for Quantum is called TFA™ (Total Forming Analysis).  The TFA™ software is a process monitor and control system for the hot side of the bottle forming process.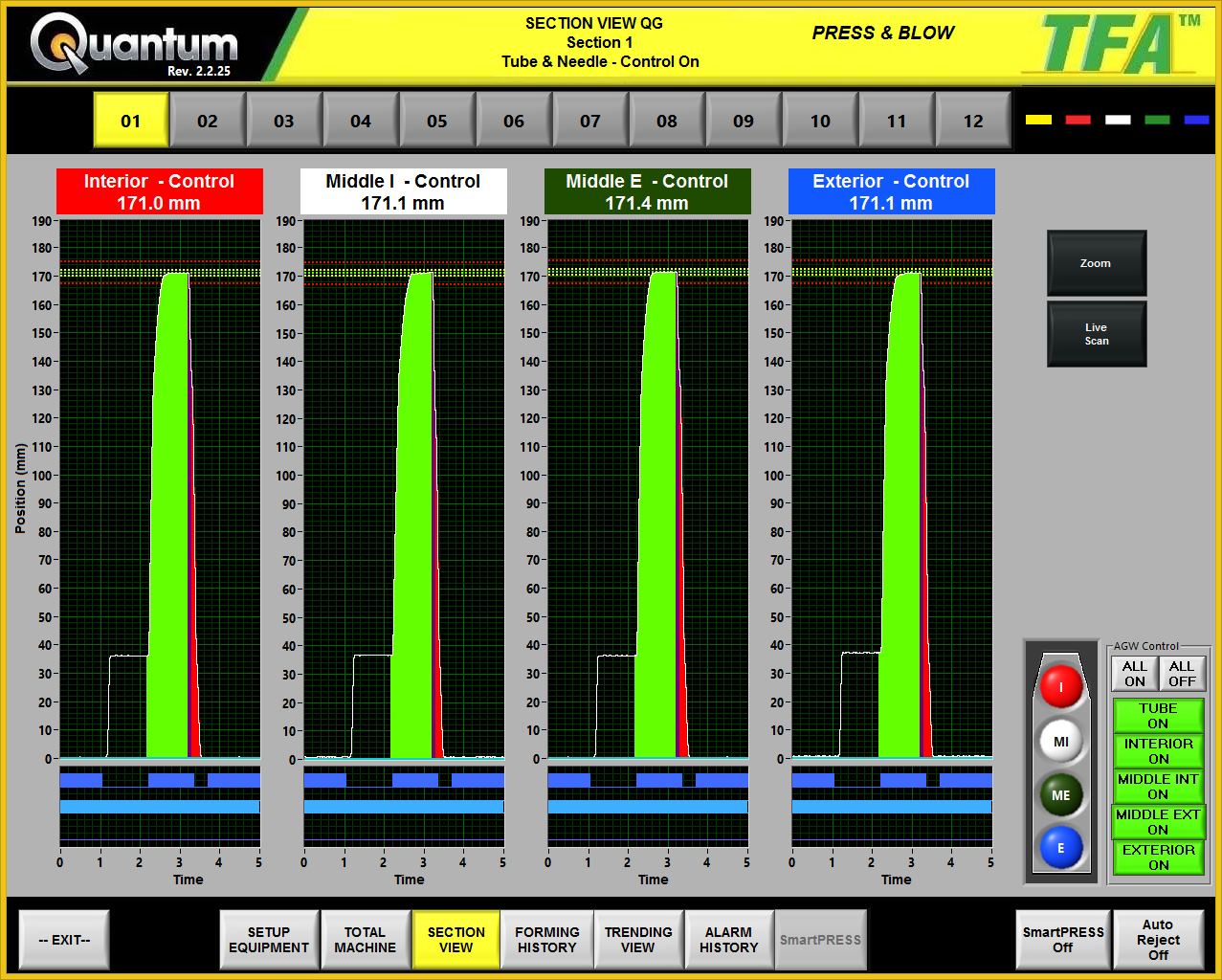 The software takes position information from the plungers Quantum supplies to the factories to show the travel of the tube during the forming process. The software measures key aspects of the plunger position profile such as initial plunger load position, final position, and dwell time at the final position.  When these measurements are found to be out of tolerance, the software communicates with the machine auto-reject system to ensure that bad bottles are removed from the system.
Moreover, the final plunger position is used as feedback to do closed loop control of the glass gob weight, controlling glass feeder tube height and/or needle heights to change the glass gob weight. This allows for precise control of container weight, making the most efficient use of raw materials while ensuring container quality.
To accommodate multiple end-customer-driven hardware configurations, the off-the-shelf hardware selected was based on the National Instruments CompactRIO family of chassis to enable configuration of various input/output signal requirements.
For the end result, check out one of the machines running TFA™ in action:
Benefits
Hardware Customization Flexibility –  every one of Quantum's customers wants something either a little or a lot different with their particular instance of the system.  Using modular hardware allowed for swapping of I/O hardware.
Quick Response to Software Feature Requests – Quantum and Viewpoint were in constant communication to be able to implement new features and tweaks on fairly short notice (generally within a couple of weeks).
On-Site Support – Viewpoint engineers travel to Quantum's customer sites with them as a team upon request.
System Overview
The embedded process monitoring and control system consists of custom process monitoring and control software that runs on off-the-shelf hardware.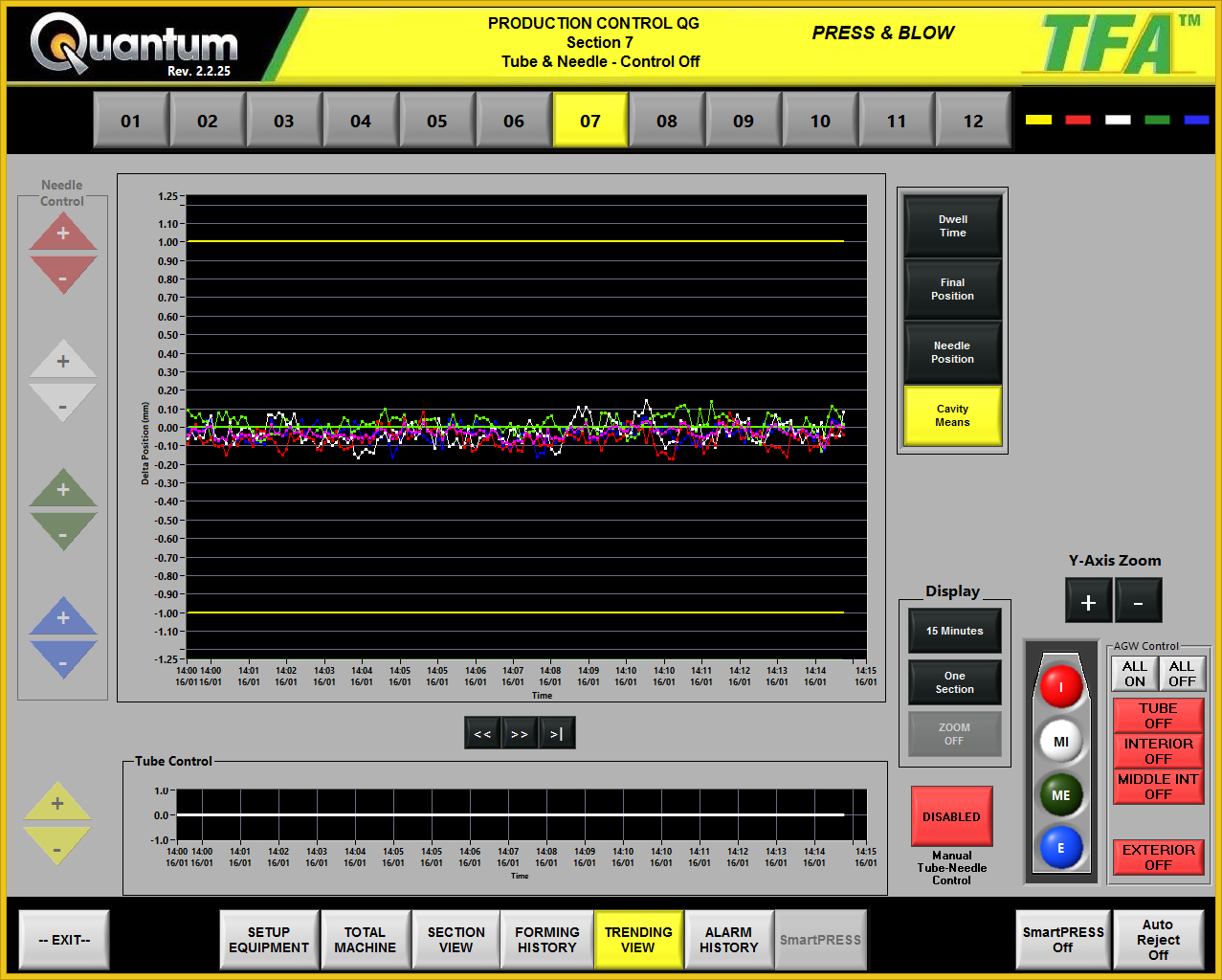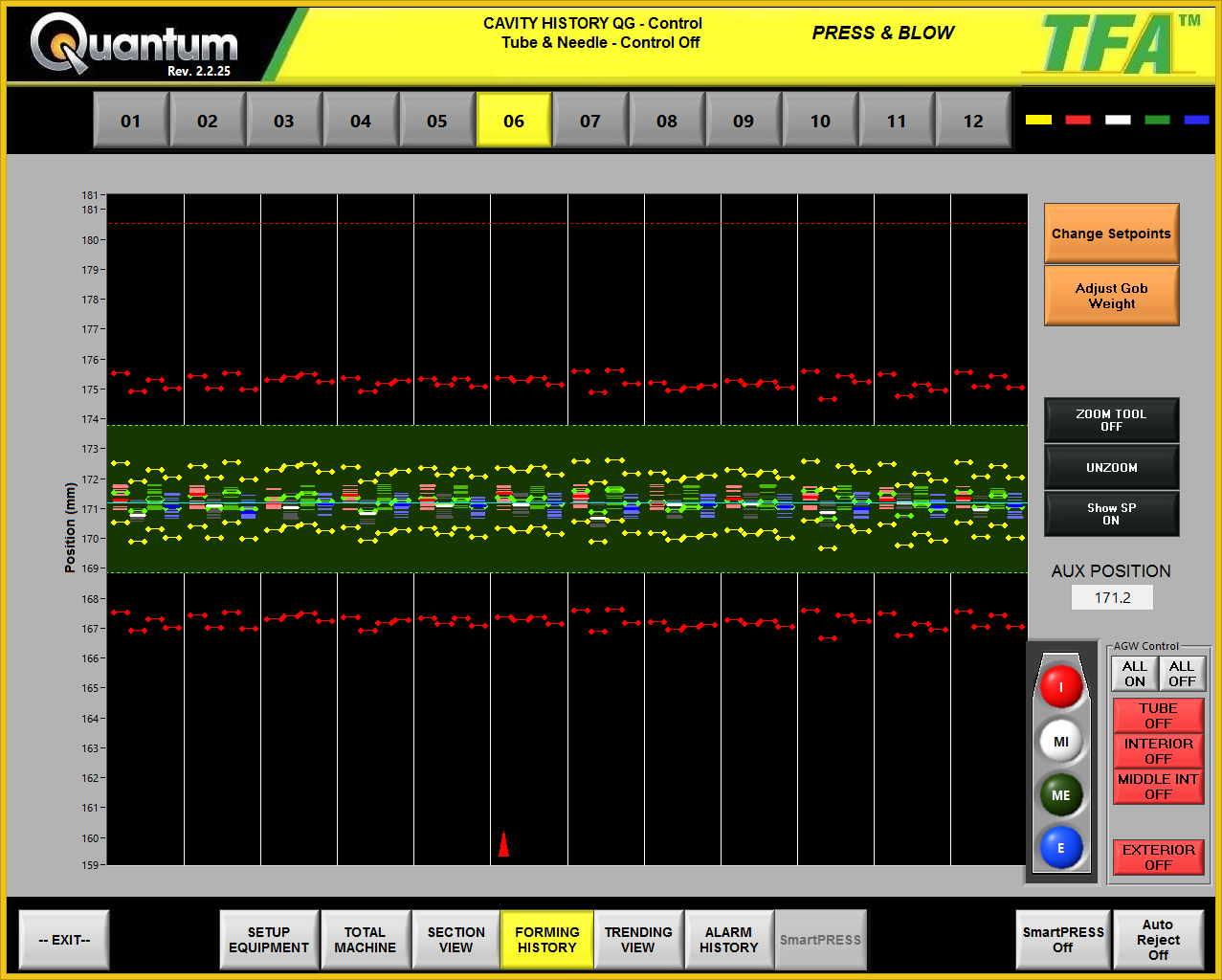 NOMINAL HARDWARE
NI 9148 Ethernet expansion chassis
NI 9201 module for AI
NI 9425 module for DI
NI 9476 module for DO
SOFTWARE FUNCTIONS
Data Acquisition and Processing
Waveform Calculations (eg. final position and dwell time)
Final Position control loop
Real-time per cavity plunger position graphs
Process trend graphs
Forming history graphs, showing a packet of the last forty final positions per cavity
Limits definition screens
System health summary, fault monitoring and auto-reject configuration
Job configuration
Plunger sensor calibration
COMMUNICATION INTERFACES
Gb Ethernet communication with the DAQ devices (NI 9148 chassis)
TCP/IP Modbus communication with Schneider Electric motors for feeder tube and/or needle control
TFA™ is a registered trademark of Quantum Engineered Products, Inc.
Viewpoint's LabVIEW Real-Time Application Development Tools
Over many years and many projects, Viewpoint has developed a set of internal tools that provide the functionality required for these types of applications. While each application is different is some ways, the tools for shelling out the framework are by and large reusable.
When developing the various types of data acquisition systems, it is not uncommon to have requirements for deterministic task execution for tasks such as PID Closed Loop Control, Digital Communication, and other operations. Since Windows is not a platform we can use to attain true determinism, we often utilize the capabilities of a National Instruments RT (Real-time) Controller and/or FPGA device.
Since these applications require both host side (Windows) and the deterministic side (RT), there is an inherent need to bring the two together.
These tools encompass the following areas of need:
TCP/IP Connectivity for Command/Data Transmission
HOST side Data Recording and Circular Buffering for global data access.
RT side Non-Priority Loops (NPL) for low priority activity (processing host commands, etc.)
RT side Time Critical Loop (TCL) for the DAQ Read, Process, DAQ Write activity
The figure below shows a visual description of the connectivity between the components as well as some common activity performed in the various locations.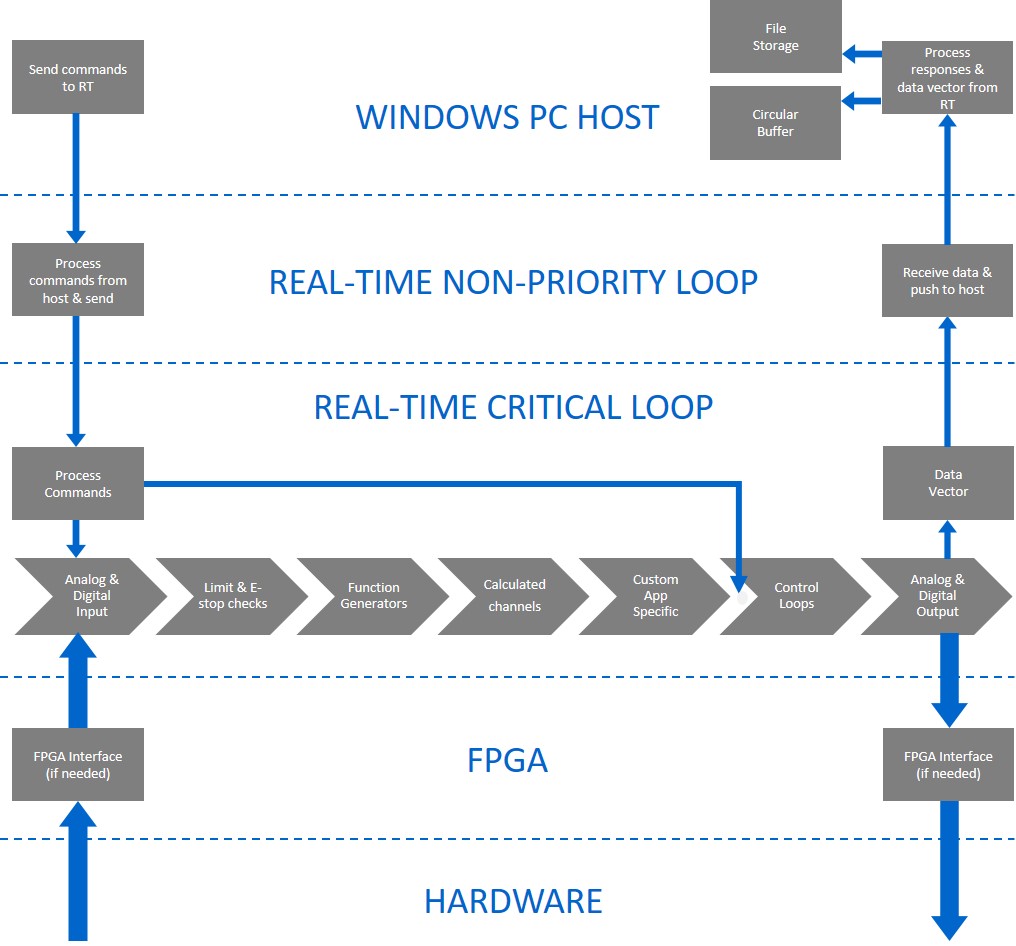 The essence of the architecture is the data vector, which can contain all data involved in the application, including, but not limited to:
Analog Inputs/Outputs (Beginning of TCL)
Setpoints
Calculated channels
Digital Inputs/Outputs (End of TCL)
Some common tools we use in the RT layer include:
E-STOP Monitoring
Limit and Threshed Checking
Watchdog Timers
Function Generators
PID Closed Loop Controls
Note: All of these items are evaluated typically at 1kHz, but higher speeds can be achieved and are application dependent.
When even higher speed determinism is required, we often incorporate FPGA devices into the system. Viewpoint has a library of IP that we regularly utilize for common tasks such as Frequency/Period Measurement, LVDT Demodulation, Digital De-bounce/Deglitch, Encoders, SPI, and custom UART interfaces, etc.
With an FPGA, the deterministic speed capability is significantly higher and results can be passed directly to the RT layer though DMA FIFOs.
On the host side, we have an equal set of companion tools to interface to the RT layer and manage the data for the host application. This includes:
Circular Buffering of Data Vector
Command Sets allowing direction of activity on the RT side and setting output values.
Hardware Abstraction Layer for RT interfacing, as well as other, non-RT instrumentation such as DMM, Power Supply, and Environmental Chamber control.
Data Recording with decimation.
Diagnostic Panels with digital and chart presentation.
These tools provide an environment for rapid application development. While these tools can be used for any application approach, they are quite often utilized in conjunction with StepWise; a VSI platform for sequential test step execution and reporting.
Together, the StepWise platform, combined with the RT Toolset provide complimentary functionality for demanding custom test and measurement, control, and R&D applications.
We've helped teams at some of the world's most innovative companies
Viewpoint Systems Industry Expertise