LabVIEW-based Test Executive
For regulated industries
Enable Lean Manufacturing for Low-Volume Production with LabVIEW Automation
How do I know if StepWise may be a good fit?
Do you manufacture high-complexity or high-mix parts at low or medium volumes?
Do you work in a regulated industry (e.g. aerospace, defense, medical, transportation)?
Do you have paper-based work instructions and records?
Decrease Human Error

Increase Productivity

Increase Traceability
Decrease Human Error and Increase Traceability
StepWise replaces manual paperwork and instructions with electronic guides to lead operators through the testing of electromechanical components.

With electronic test results, users can trace failures to the serial number for efficient troubleshooting.

Keeping track of part and equipment serial numbers involved in a test is difficult, but necessary to have useful data that can be used to make informed decisions.
Increase Productivity
StepWise allows parts to be tested quickly and accurately.

StepWise can be modified to meet specific needs and significantly increase test process efficiency.

Marked improvements in manufacturing efficiency can be achieved when StepWise is integrated with information on work orders and manufacturing flow from business information systems.
Illustrated instructions for operator assembly and test steps

Customizable graphical interface and program setup

Controlled access for different users

Associates tests with equipment and part serial numbers for traceability
General and customizable test steps

Email alerts for test failures during automated sequences

Separate sequence editor and execution engine

Licensed by site not seat
Proof Points – StepWise Case Studies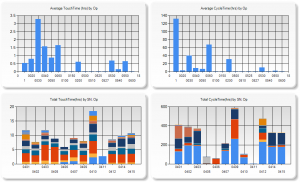 Sharing Business and Test Data Enables Efficiency Improvements
Reduce Production Costs by Coordinating Business and Test Data
Client: A major manufacturer of aerospace components
Problem Scope
Many companies operate in a high-mix, low-volume manufacturing environment. In these situations, production of such parts is often complex, with long assembly and test procedures describing the process to make and verify the part. Discussions of automating any part of these processes are often dismissed because an automated test system is thought to be expensive, especially when each part is thought to need a unique test system.
Challenge
Our client wanted to improve their capability to manage the assembly procedures and get clarity on the status of any parts, whether partially or fully assembled. The existing situation had data manually-entered into a database form or even handwritten data that needed to be transcribed into a database. Often the database was local to the assembly cell. The chance for error was significant and the lag between data collection and updating the database was often days. When questions arose about the status of a particular unit, many hours could be spent in locating and evaluating the associated forms and paperwork.
The steps needed to achieve these goals were clear: automate the collection data on each part while being assembled so that those results would appear in a business-level database which would give a plant-wide view of the status of all the parts in progress.
Thus, this project needed to allow read/write access to sections of the Manufacturing Enterprise System (MES) database so that information about a part being assembled could be obtained automatically and results could be submitted to that MES database automatically.
Solution
We designed the PXI-based system based on the StepWise test executive platform to automate the assembly and testing.  This platform enables two significant changes. These changes were made at each assembly cell by having the operator use a test PC and perhaps some measurement equipment as appropriate for the part(s) being assembled at that cell.
First, we replaced all the printed assembly procedures with electronic records so that any operator could review the latest version of the work instructions on a computer screen. This approach helped with version control, especially important since the client had various model revisions that came through the factor for rework, each with slightly different versions of assembly instructions.
Second, we displayed those electronically documented work procedures as steps in a test executive, allowing the results of each step in the assembly procedure to be captured electronically. When an assembly step was purely manual with no measurements, the fact that step was completed would be recorded, along with information such as the name of the operator performing the step, the duration that the step took, and so on. When a step required a measurement to be made, such as a functionality verification or a calibration result, the measurement would be collected. If the equipment making that measurement could be automated, we would collect that data automatically, and not require the operator to type the result into a computer form.
The outcome of this effort has enabled the client to get a snapshot of the status of parts in assembly, i.e., Works in Progress (WIP), quickly and accurately.
After these changes were made, many additional capabilities are now available with the advent of purpose-built queries into the appropriate MES database tables. The table below shows the overall efficiency gains achieved.


The key is the combination of the electronic test results obtained at the test equipment with information on work orders and manufacturing flow held in the various tables in the business MES database. This improvement happens even with manual or semi-automated test systems, and does not require a completely automated assembly and test system. Thus, the cost of the test system is much less than usually expected and, hence, the benefits are more easily cost-justified.
Find out if StepWise is right for your application
Want more proof that StepWise works?
Check out this report where we show you how we helped one of our clients reduce production costs by up to 30% by integrating StepWise with a test database and their business systems.