LabVIEW Consultants
US-based manufacturers: Need a LabVIEW Expert?
This puts us in the top 2% worldwide
Need some existing code updated?  Need a whole new LabVIEW-based test system?  Whether you had code dropped on your lap, or you're just too busy with other things, our LabVIEW experts can take the LabVIEW programming off your plate so you can focus on what you need to.
Certified LabVIEW Architect
Certified LabVIEW Developer
Certified TestStand Architect
Certified TestStand Developer
Talk to a LabVIEW Consultant.
We've helped teams at some of the world's most innovative companies
"Very impressed…kudos to Viewpoint"

I really want to thank you for all your help getting us to this stage in automating our testing. We had our customer in this week to oversee some testing and they were very impressed, which is definitely kudos to Viewpoint.
David,

An Aerospace & Defense Company
"Significant value"

The Viewpoint team provides significant value to our projects, and I really enjoy working with Viewpoint.
Jerzy Wolujewicz, PhD,

Nammo Pocal Inc.
"Valuable part of our global team"

I have been working with Viewpoint for 15+ years on multiple projects. They have always provided creative and quick solutions to all of the problems we have placed in front of them. I have always considered them a valuable part of our global team.
Engineering Group,

A Global Manufacturer
LabVIEW Case Studies | Projects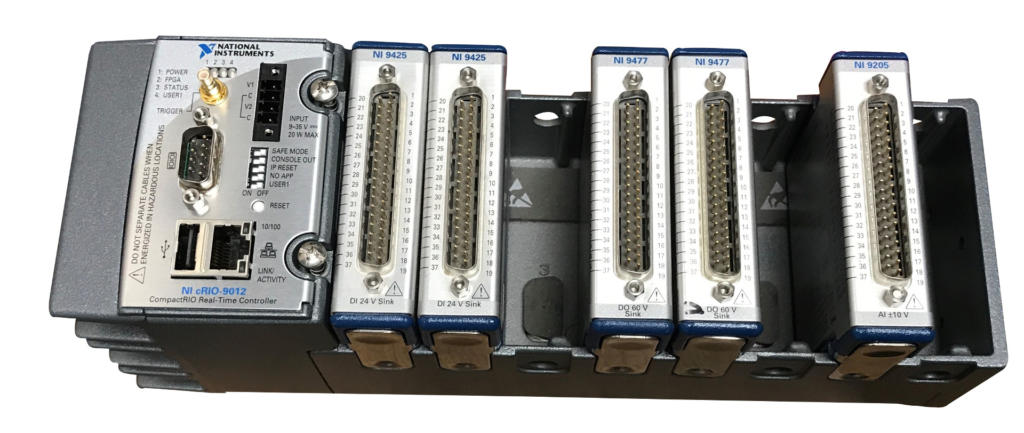 Endurance Tester for Mission-Critical Mechanical Component using NI cRIO
Ability to run tests unattended and overnight reduces operator labor and compresses test schedules
Client – Major Aerospace Component Supplier / Manufacturer
Challenge
The client had an older VB & PLC-based test system in place already, but it was obsolete. A new endurance test system needed to be developed to validate prototyped components (in this case, aircraft & aerospace bearings). Many of the prototypes are one-off, so it was important that the test system not destroy the component.
Solution
A new endurance test system was developed to validate prototyped components. The test system can be configured for automatic shutdowns so as not to destroy the component under test in the event of unexpected performance of electro-mechanical subsystem components. The updated endurance tester supports product validation by allowing the product to run under various test conditions (e.g. speed, load, oil flow, temperature) and collecting data for analysis.
Viewpoint developed the software and selected the NI hardware (other hardware was selected by the client).
Benefits
Ability to run tests unattended and overnight eases operator labor and compresses test schedules

Data collection allows for offline engineering analysis

Automatic shutdowns reduce destruction of the prototype component under test
System Overview
The updated cRIO-based endurance tester incorporates configurable profiles, data logging, and automatic shutdown to allow for safer extended validation testing.  LabVIEW FPGA and LabVIEW RT were used together to interface with the test hardware sensors and controls.  LabVIEW as used create the HMI for the test system.
SOFTWARE FUNCTIONS
Closed loop control of bearing test oil flow
Axial load control
Driver for Emerson VFD
E-Stop and safety management (shutdowns based on alarm limits)
Data collection – temperature, pressure, flow, vibration, frequency
Operator/Diagnostic GUI for control of system
HARDWARE USED
NI CompactRIO (cRIO)
NI C Series Current Input Module
NI C Series Voltage Input Module
NI C Series Temperature Input Module
NI C Series Current Output Module
NI C Series Analog Input Module
NI C Series Sound and Vibration Input Module
NI C Series Digital Module
Emerson VFD (Variable Frequency Drive)
INTERFACES / PROTOCOLS
TCP/IP
TCP Modbus
Load More Posts
Learn how to choose a LabVIEW consultant
Maybe you're LabVIEW programmer quit or retired, or maybe you've got some internal capabilities but need some additional support because everyone's too busy.  From hourly rates to a range of skills, there are several factors to consider. We'll help you weigh each one. See How to Select a LabView Consultant. 
3,000+
LabVIEW solutions delivered
Great for automated measurement & control: manufacturing test, product validation, machine control and condition monitoring.
700+
LabVIEW FPGA systems delivered
Great for applications requiring seriously deterministic timing, reliable code execution, and multi-channel synchronized processing.
1,000+
LabVIEW RT systems delivered
The combination of LabVIEW RT and the RTOS on which it runs allows for the creation of applications with bounded jitter and latency.
500+
cRIO-based systems delivered
Combining a cRIO controller with the multitude of C Series modules creates a functional real-time controller in a small footprint.
1,500+
PXI-based solutions delivered
Broad range of off-the-shelf expansion cards & processing horsepower make PXI a formidable choice for many automated test applications.