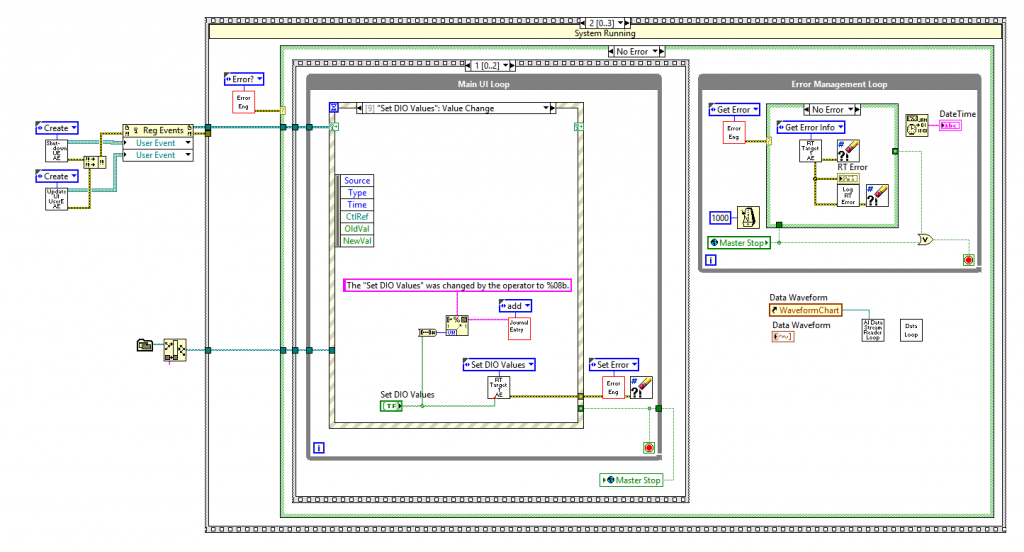 There are 3 main ways to get LabVIEW help:
National Instruments (creator of LabVIEW) has several online help resources.
If your company is a heavy LabVIEW user with tons of licenses, you may have an agreement that will get you access to NI's LabVIEW support staff. Either contact your NI sales account manager or ask other LabVIEW users at your facility to find out if you've got such an agreement in place.
Find a test system integrator that does LabVIEW programming.
Which of these you select depends primarily on how much help you want.  Are you just looking for someone to point you in a direction or are you looking for someone to take the development off your plate?  Recommendations are best determined by describing some common scenarios.
LabVIEW help scenarios with recommended paths
I'm in manufacturing. My main job is not as a LabVIEW programmer, but someone just dropped this code on my lap and wants me to do something with it.
Reach out here to get one of our LabVIEW Experts to focus on what we do best so you can get back to focusing on what you do best.
We've got an old obsolete tester that needs to be upgraded.  We not only need to look into new hardware, we need to port the code, and while we're at it, we'd like to add some functionality.
You need a test system update.  See here for more on how to get help with migrating obsolete test systems.
I've been coding in LabVIEW for a while now.  I'm generally fine on my own, but I'm just stuck on this one detail.
If you work for a US-based manufacturer and you've just got a quick technical question, you can reach out here to see if we've got a quick answer for you: Have a Question? Ask a LabVIEW Expert.
I'm a college student and I'm working on a LabVIEW project for school.
You'll want to check out the NI discussion forums and LAVA Forums and find which topic aligns with your question.
I need to become a solid LabVIEW programmer.  It's the core of my job and I need to start ramping up.
This of course is a long road.  Here's some thoughts on how you can get started:
Check to see what kind of support agreement you have in place with NI.
Check out NI's Online LabVIEW Help Resources
Check out LAVA Forums
Check out this article on How to Learn LabVIEW Quickly
Chances are if LabVIEW is the core of your job, you not only care about LabVIEW, but automated test as well.
Check out these automated test-focused resources:
Check out these LabVIEW-focused resources: