Custom FlexRIO Adapter Module Development | FlexRIO Application Development
Over 10 Custom FlexRIO Adapters/applications Developed & Delivered
Platinum-level National Instruments Alliance Partner, putting us in the top 2% worldwide
How we can help:
Custom FlexRIO Adapter Module Development
Custom FlexRIO Application Development (incl. GUI, LabVIEW, LabVIEW RT, LabVIEW FPGA, VHDL, CLiP)
We've developed a deep understanding of how the NI FlexRIO interfaces to high-end sub-systems to enable automated test & analysis, capitalizing on our knowledge bank of coding nuances and high-speed interface design.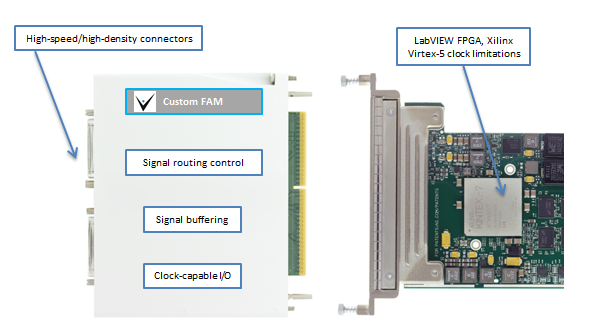 Custom FlexRIO Adapter Module Development
Multifunction I/O on one custom built FAM – Analog In, Out and Digital IO custom

High-speed parallel/ Serial Data (100's MHz)

Double Data Rate (DDR) I/O

LVDS I/O (single-ended, and LVDS or mLVDS)

High-speed Serial Data – 1Gbps+

Custom connector interfacing to UUT (including High Density)

SFP+ connector interfacing

High-speed PCB Design with High Speed PCB Simulation for impedance matching and cross-talk considerations.
FlexRIO Application Development
CLiP development & modification – interface development & modification of NI standard FAMs CLiPS to allow for data delays, PLLs, etc.

VHDL & LabVIEW FPGA Development

Custom low-level triggering (FPGA, RT)

Test sequencing to enable more complex testing and automation of tests

Algorithm development – filtering, thresholding, peak detection, FFT, interpolation, correlation, pulse measurements, etc.

PID Loop Control / Closed-Loop Control

Multi-FPGA timing synchronization (synchronize multiple modules)

Bit error rate monitoring

Arbitrary data generation

Custom protocol emulation

LVDS 8b/10b communication

Clock Generation & multiplication
Want more proof points?  Check out these FlexRIO case studies:
Need a FlexRIO-based test system?  Reach out here: