Using an NI CompactRIO for industrial embedded monitoring & control applications
Over 500 cRIO-based systems delivered (including test & embedded applications)
Platinum level National Instruments Alliance Partner, which puts us in the top 2% worldwide
What if the controller for your industrial embedded application was available off-the-shelf and all you needed was some software developed?
The core of what we're suggesting is using an NI CompactRIO (cRIO) with C Series modules for hardware, overlaid with custom software that Viewpoint would develop for your application.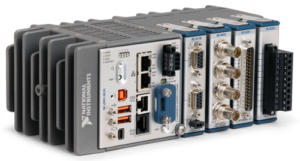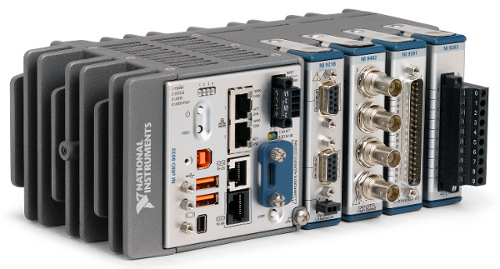 If you've got an industrial monitoring or control need where these 4 criteria sound similar to your scenario, this could be an option worth your consideration.
expect low production volumes (less than ~100/year)

need some decent processing power (FPGA-based)

need to get to market quickly (~6-9 months)

and don't want to mess with custom hardware
The main constraints for consideration:
There's likely going to be a cross-over point where the unit cost dominates the conversation vs the NRE. That cross-over point will depend on how much your scenario values time-to-market, flexibility of hardware configuration, and obsolescence management, but generally speaking the conversation will start coming into play in the ~30-100 units/year sort of range.
There are size constraints. The cRIO does come in different sizes: see here, and here for a couple examples.
There are power constraints. Again, the cRIO has different power utilization needs based on things like processor architecture, processor utilization, and I/O module needs. A power budget should be constructed for your scenario.
If this isn't a good fit for your scenario, we have the ability to develop hybrid solutions that combine a daughter board with an off-the-shelf core controller (see here).  If you need a full custom board design built around a microcontroller or FPGA, you'll likely want to look elsewhere.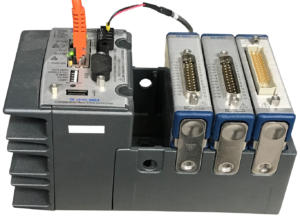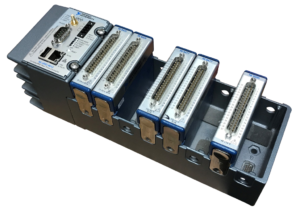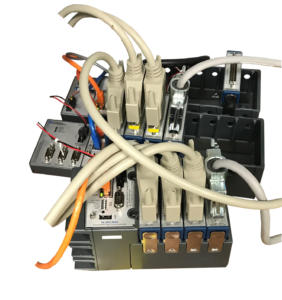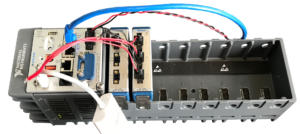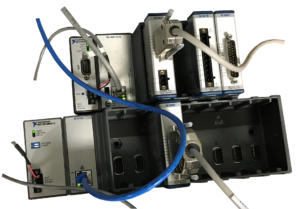 The best reasons to consider a cRIO-based path are:
Rapid prototyping –
If you want to start by just collecting some raw data, that can probably be accomplished within a day or two after receiving your hardware.
End-application development timelines can be drastically reduced using the cRIO platform because of the availability of high-level software functions.
If, during development, it turns out you need more/different inputs or outputs, you can just add/swap out a C Series module or more (assuming what you need exists of course).
Lots of I/O to interface with the world –
With ~100 C Series modules, the breadth of functionality for interfacing with the world is pretty comprehensive.  You can measure temperature, strain, acceleration, voltage, sound, current, and various digital voltage levels.  There's also control interfaces for motion control as well as general voltage and current outputs. Check out the modules here: CompactRIO IO (be sure to check compatibility with the controller).
Synchronization –
There are two main methods for synchronization: (1) GPS and (2) TSN (Time Sensitive Networking).
Obsolescence Management –
Yes, everything in the electronics world goes obsolete.  This is really a question of how deeply you want to be involved in managing the obsolescence of your hardware.  Do you want to manage it at the chip level (e.g. power regulators, switches, Ethernet interfaces, processors, memory chips), or at the controller level?  Remember there's low level software function compatibility to consider here as well.
Several ways to communicate –
The standard way to communicate with a cRIO is Ethernet. Some cRIOs have multiple Ethernet ports in order to connect to a business network separate from a control network (IT vs OT), and sometimes daisy chain cRIOs by passing messages.
There are C Series modules available to communicate via Wi-Fi or cellular (3rd party) connections for remote operation.
Multiple variants possible –
Configurable software – that's basically a given in most scenarios these days, so we won't say more.
Configurable hardware – maybe you've got a few variants of your product: a baseline model, a high-end model, and a model you're experimenting with.  The beauty here is that you can just plug in the C Series modules you need for the I/O of interest.  You can even utilize different controllers (provided it's got the horsepower and specs you need), although caution needs to be exercised because this can become a configuration management nightmare real quick.
Rugged hardware –
This term is very nebulous without some specs to back it up.  There are multiple variants of the cRIO, with varying specs.  See here for a white paper from NI:  Reduce Risk with the CompactRIO Platform.
Next Steps
All of this capability needs software developed for your application (as well as have the correct hardware selected).  Our theory is that we can get you up and running faster and cheaper developing software around off-the-shelf hardware than going the full custom approach.  If you'd like to see if that's true for your scenario, reach out to chat.
If you're deep into learning mode, check out these resources:
Want to see some case studies where we've utilized the cRIO for industrial embedded applications?
We've helped teams at some of the world's most innovative companies
Viewpoint Systems Industry Expertise