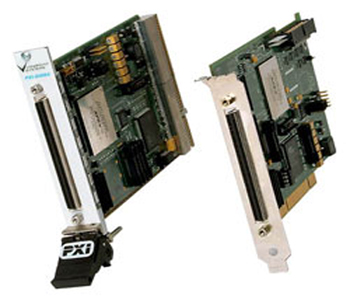 DIO-64 Event Analyzer/Control (No Longer Available)
Features
Custom-coded Altera FPGA manages timestamped digital edges
Time intervals as short as 50 nanoseconds.
High channel count with 64 channels definable as input or output
RTSI/PXI interface allows for multi-board triggers and clocks
LabVIEW and DLL driver software with useful example programs included
Applications
Long duration, high channel count digital data logger
Demanding digital pattern stimulus outputs
Digital encoder motion quality measurements
Bose-Einstein condensate pulse and trigger control
The 64 TTL-level digital outputs can be configured for input or output in four 16-bit groups.
For input, the DIO-64 allows you to record and timestamp state changes on up to 64 digital inputs in LabVIEW®. Because the on-board FPGA program records only the changes, it eliminates redundant measurements when no changes have occurred. You can even specify the digital lines that can trigger a sample, leaving you with only the data of interest to you.
For output, by specifying only the bit pattern and the time of any changes, the DIO-64 simplifies description and creation of complex patterns on up to 64 digital output channels. The DIO-64 provides a large FIFO that can replay some desired patterns continuously or for a limited number of repetitions.
Using channels as both input and outputs gives you even more high performance flexibility.
The DIO-64 utilizes the fact that digital patterns are only interesting when edges occur. Between edges, the signals are flat. When digitizing and generating signals with precise timing, standard DIO hardware requires huge quantities of data to measure or generate signals with low duty cycles or long durations between edges. The DIO-64 manages digital data as a collection of timestamps and digital values. Thus, only the edges are represented and data compression can be very substantial.
The DIO-64 input mode monitors a specified number of digital input bits at a particular scan rate. This scan rate determines the minimum pulse duration that can be sampled. If any digital input changes from one scan to the next, the DIO-64 saves the current time and state of all the digital inputs into a FIFO. This FIFO is read by the application, where the sampled data can then be processed.
The DIO-64 output mode allows an application to describe a digital waveform that will be driven out the specified digital output bits. The application describes this waveform as a series of events. Each event describes the digital data to be generated at a specified timestamp. The DIO-64 will output an event out when the internal timer reaches the time specified by the event's timestamp. The DIO-64 also allows the waveform to repeat for a fixed or continuous number of times.
The DIO-64 can perform both input and output simultaneously without sacrificing performance.
These specifications are typical for 25 ?C unless otherwise noted.
Digital I/O
Number of channels…………………………. 64 input/output (4 banks of 16 bits), 4 control pins
Compatibility…………………………………….. 5 V TTL/CMOS
Digital Logic Levels
Level
Minimum
Maximum

Input low voltage
Input high voltage
Input leakage current
Sink Current
Setup time to scan clock

-0.5 V
2 V
± 0.1 µA

5 ns

0.8 V
5.5 V
± 5 µA
24 mA

Output low voltage (Iout=24mA)
Output high voltage (Iout=24mA)
Source Current
Propagation delay from scan clock

–
4.2 V

0.55 V
–
24 mA
25 ns
Power-on state for outputs

High-impedance, pulled up or down, 10 kOhm (selectable, every 8 bits)

PCI, PXI

DMA, interrupts, programmed I/O

Memory

Input – 512 scan onboard FIFO

Output – 512 scan onboard FIFO

Bus Interfaces

Clock Sources
Major clock sources

40 MHz crystal (±100 ppm)
External clock
RTSI Clock (PCI only)
PXI Clock (PXI Only)
Optional 10 MHz oven controlled crystal (±100 ppb)

RTSI Features (PCI Only)

Trigger lines – Trigger 0-6 as I/O via internal Register
RTSI Clock – Generate and use

PXI Features (PXI only)

Trigger lines – 7
Star Trigger – Controller and peripheral
PXI 10 Clock – Generate and use

Max Scan Rates

Internal Clock – 20 MHz
External Clock – 16 MHz
Power Requirements
+5 VDC (+/-10%)

Device (Typical/Maximum)

PCI/DIO-64 – 1 amp/4.5 amp
PXI/DIO-64 – 1 amp/4.5 amp

Physical

Dimensions – PCI 6.9 inch by 4.2 inch (17.5 by 10.7 cm) PXI STD 3U
Connectors External -100 pin 0.05" center female D subminiature
Connectors RTSI – 34 pin 0.1" center male ribbon (PCI only)

Environment

Operating Temperature – 0-70 ?

C

Oven-Controlled Crystal Oscillator (OCXO)(optional)

Frequency – 10MHz
Stability – 100 ppb
Duty Cycle – 40% to 60%
Warm-up time (to within 0.1 ppm of operating frequency) – 3 minutes @ 25 ?C
Frequency stability versus supply: aging – ±4ppm in 10 years max, ±1ppm/year
Power Supply effect – ±0.06ppm max
Optional frequency adjustment – ±15 ppm range
Note: You can use the OCXO to replace the PXI 10 MHz backplane clock when the DIO-64 is installed in the PXI star trigger slot. (PXI only)