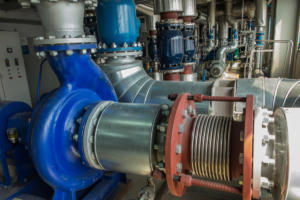 Pump Test Station Used Across Multiple Locations Worldwide
Simplifies gathering test data from multiple plants to perform site-to-site comparisons
Client – Large Pump Manufacturer
Challenge
Our customer needed an updated test system to replace their obsolete/unmaintainable test systems. It was too hard to gather data from multiple sites located around the world, certain algorithms weren't standardized, and they didn't have the ability to utilize the test systems to calculate first-pass yield at each site.
Solution
Viewpoint developed a new centrifugal pump test application that harmonizes the user interface, calculations, and test procedures, resulting in enhanced operational efficiency and tracking of the manufacturing process. Furthermore, it is used in multiple global locations with language localization and support for the varying hardware already in place at each site. The new application deposits all the test data from the various sites into a single database for engineering and manufacturing data analysis at corporate headquarters.
Benefits
Simplifies gathering test data (for analysis) from multiple plants worldwide to perform site-to-site comparisons.
Enables calculation of first-pass yield for each manufacturing plant.
Standardizes algorithms for pump performance summary data calculation for first-pass yield and site comparison analysis.
Abstracts the hardware to support differences in control and measurement hardware at each site and provides a future path to homogenize hardware installations.
System Overview
The entire system consists of three main applications:
A database management application to allow the user to update test configurations and to enter and associate new pump serial numbers with specific tests.
A pump test data acquisition application that can run up to 5 different tests simultaneously on the UUT, generating a datafile for each test that is also stored in the database.
An application to generate reports from the information stored in the database to provide to customers when delivering a new pump or after a factory witness test.
Measurements include:
Flow
Pressure
Vibration
Displacement
Temperature
Torque
All hardware was provided by the customer.
SOFTWARE FUNCTIONS
Test database manager
Pump test data acquisition
Pump test sequencer
Pump test pass/fail calculations
Report Generator
Test Data Exporter
HARDWARE USED & INTERFACED
NI cDAQ
Multiple NI cSeries measurement modules
Various PLCs
Various motor controllers